2014 Breeders Cup Turf Sprint
The Breeders Cup Turf Sprint returns for its seventh instalment where a new winner will be crowned with Mizdirection not involved.
---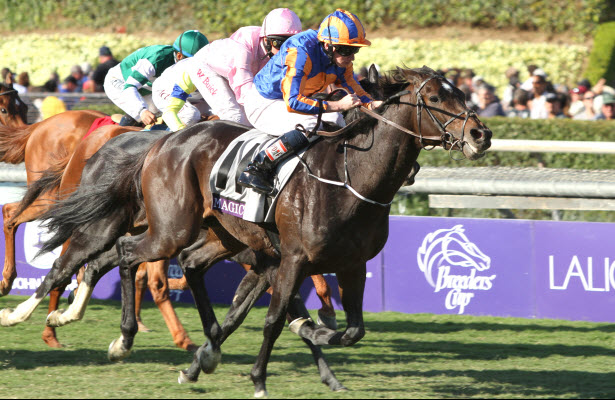 Saturday in the Breeders Cup World Championship sees the Turf Sprint return for its seventh instalment.
The Turf Sprint consists of a charge across the downhill turf course and into the homestretch at Santa Anita Park. The race is 1400 yards (6.5 furlongs) for horses 3-years of age and older, combining both speed and agility for the international contenders.
Last year saw the Breeders Cup reach new levels of popularity, with betting on the weekend up 7% totalling $136,539,014.
If you want to join in the betting this year, back your horse with Coral for a free £20 bet when you open a new account and deposit £5.
Mizdirection has dominated the Turf Sprint recently, winning in 2012 and 2013. She made a habit of winning on the downhill turf at Santa Anita, with her victory in 2013 taking her record to an unbeaten six wins.
Shortly after her 2013 victory Mizdirection was retired, potentially making the 2014 race a far more open event. Reneesgotzip and Tightend Touchdown battled it out for second place last year and both horses will be returning this year with hope that they can go one better.
As dominant as Mizdirection proved to be on this course, she never managed to break the race record despite her victories. That record has stood since 2009 when California Flag completed the race in a time of 1.11.28.
Mike Smith, the Breeders Cup's most successful jockey, guided Mizdirection to her two victories in this race. However, Smith has not confirmed whether he will riding in this years Turf Sprint which again suggests that this race will be a wide open one that's too tough to call.
Reneesgotzip will be the early bookies favourite however after her strong rides in 2012 and 2013 and strong performances so far in 2014 following a nine month lay off.
The other contenders for the Turf Sprint include Due Diligence, Ankeny Hill and Lockout.